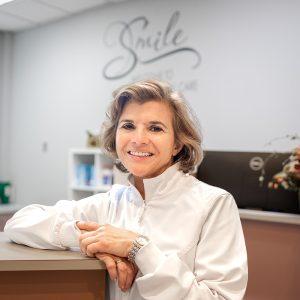 Dr. Backos is a highly trained and a skilled clinician who prides herself in providing the care you need to keep your smile healthy and beautiful. She is committed to continued education and learning in order to give you the best possible service and dental care. She attends dental lectures, meetings and dental conventions and consistently reads dental literature to stay informed on new techniques, the latest products and the newest equipment that Fords Family Dental Care can employ. Being a member of various professional dental associations helps Dr. Backos stays abreast of the constant changes and recommendations in the dental profession.
Dr. Backos was valedictorian of her high school and earned her Bachelor of Science from Rutgers University in 1984. Immediately after, she pursued her dental education at Columbia University College of Dental Medicine, formerly known as Columbia School of Dental and Oral Surgery, where she graduated in 1988. Then, Dr. Backos went on to complete a comprehensive general dental practice residency program at the Catholic Medical Center of Brooklyn & Queens until 1989.
She has been a member of the American Dental Association® and the Academy of General Dentistry. She had also been an attending mentor for JFK University Medical Center in the dental residency program. She is presently a member of the prestigious Seattle Study Club®. Over the years, Dr. Backos has connected with scouts and students in preschool, elementary and high school classes in order to extend the importance of healthy dental living and promote the field of dentistry.
On a personal note, Dr. Backos has been married since 1988 and has two daughters and a son. She is an active volunteer in her church and has held key positions in several organizations. She also donates to the LEAF Scholarship Foundation, a foundation that provides scholarships to students in need.
Dr. Backos has been practicing dentistry since 1988 and "never settles for anything less than her best" in treating and providing excellence for her patients at Fords Family Dental Care!
My Story
My journey began with my immigration to the U.S. at the age of 13. I came as a refugee from humble beginnings to live with extended family. As long as I can remember, I had a dream of pursuing higher education and a better future for myself. My love for learning began at a very young age because, thinking back, I often slept with a book underneath my pillow. I grew up in a village without any technology, so knitting and doing other creative crafts with my hands became a favorite pastime. It was the combination of my passion for learning, love of working with my hands and want to help people that lead me into researching the profession of dentistry while still in high school. That is when I decided that becoming a dentist was going to be my life career goal.
From that point on, I devoted strenuous amounts of time to studying and ensuring my future career in dentistry. During my high school years, I did my best academically and graduated in 1980 as valedictorian of my high school.
Having a set plan for my future helped me to stay focused at Rutgers University, where I earned my Bachelor of Science. In between semesters, I found different jobs to support myself. I always worked hard and stayed busy. Through all this, I was blessed to gain all these different experiences and the importance of being humble.
Graduating from Rutgers in 1984, I continued to Columbia University School of Dental and Oral Surgery, now known as Columbia University College of Dental Medicine, to earn my doctorate in dentistry. While in dental school, I had multiple opportunities to work alongside my professors as a dental assistant in their private practices. Learning invaluable practical experience from my professors was an opportunity of a lifetime for me and one that left a positive impact. While working in their offices, I learned dentistry from the ground up. These professors have been long-lasting role models in my dental career.
When I graduated with my Doctor of Dental Science in 1988, I went on to work in a general residency program for the Catholic Medical Center of Brooklyn & Queens. The program was very comprehensive for dentistry and a priceless foundational experience. Upon its completion, I found employment in private practice with Fords Family Dental Care.
I am extremely empathetic to all my patients because I know dental anxiety at a gut level from the tons of dental work I have in my mouth delivered by different dentists. Through years of practicing dentistry, I have also come to recognize that behind each tooth is an individual person with fears, wants and needs unlike anyone else. My practice is full of compassion, integrity and respect, with special attention to each patient as we try to deliver optimal dental care. Our practice has solidly grown because of our belief in those values. Our patients are the heart of our practice and deserve the best, and my team and I work very meticulously to deliver just that. We want to be a team that our patients are proud to recommend to their family, friends and neighbors.
It has been an amazing journey with the biggest gift being the multitude of relationships I have gained with my patients through my practice. I love being a dentist, and I love Fords Family Dental Care and the truly wonderful patients and awesome staff we have. I am grateful to my wonderful husband, my two daughters and my son. They inspire me to strive harder and be a better person every day. I enjoy serving in our church and community, and I am thankful for the great blessing to be a part of your life as we work to make it better.
I look forward to welcoming you to Fords Family Dental Care, your dental home for life!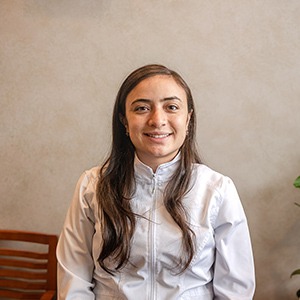 Dr. Katherine Passaro received her dental degree from New York University College of Dentistry in 2018 after she finished her undergraduate degree from the NYU College of Arts and Science, where she majored in economic policy and minored in Latin American literature and chemistry. After graduation, she completed a one-year residency at Staten Island University Hospital in general dentistry and a two-year residency, where she received training in dental implants.
She is a member of the American Dental Association®, American Academy of Implant Dentistry and Academy of General Dentistry. She still prioritizes continuing her education by attending the annual AAID conference and dental meetings in the greater New York area. She is also actively involved with New York State Academy of General Dentistry, where she serves on two committees.
Dr. Passaro has been practicing dentistry in Fords, New Jersey, since 2019 and strives to provide high-quality, compassionate care to all her patients. To make this a reality, she works hard to improve patient education to ensure all patients feel comfortable.
When she is not in the office, you can find Dr. Passaro cooking, hiking, playing with her three dogs and serving as a mentor to undergraduate students at NYU.