Posts for: April, 2018
By Fords Family Dental Care
April 21, 2018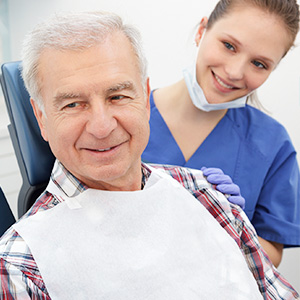 Dental implants are best known as restorations for single missing teeth. But there's more to them than that—they can also be used to support and secure removable dentures or fixed bridges.
That's because a dental implant is actually a root replacement. A threaded titanium post is inserted directly into the jawbone where, over time, bone cells grow and adhere to it. This accumulated bone growth gives the implant its signature durability and contributes to its long-term success rate (95%-plus after ten years). It can support a single attached crown, or serve as an attachment point for a dental bridge or a connector for a removable denture.
The method and design of implants differentiates it from other restoration options. And there's one other difference—implants require a minor surgical procedure to insert them into the jawbone.
While this might give you pause, implant surgery is no more complicated than a surgical tooth extraction. In most cases we can perform the procedure using local anesthesia (you'll be awake the entire time) coupled with sedatives (if you have bouts of anxiety) to help you relax.
We first access the bone through small incisions in the gums and then create a small channel or hole in it. A surgical guide that fits over the teeth may be used to help pinpoint the exact location for the implant.
We then use a drilling sequence to progressively increase the size of the channel until it matches the implant size and shape. We're then ready to insert the implant, which we remove at this time from its sterile packaging. We may then take a few x-rays to ensure the implant is in the right position, followed by closing the gums with sutures.
There may be a little discomfort for that day, but most patients can manage it with over-the-counter pain relievers like aspirin or ibuprofen. It's what goes on over the next few weeks that's of prime importance as the bone grows and adheres to the implant. Once they're fully integrated, we're ready to move to the next step of affixing your crown, bridge or denture to gain what you've waited so long for—your new implant-supported smile.
If you would like more information on dental implants, please contact us or schedule an appointment for a consultation. You can also learn more about this topic by reading the Dear Doctor magazine article "Dental Implant Surgery: What to Expect Before, During and After."
By Fords Family Dental Care
April 11, 2018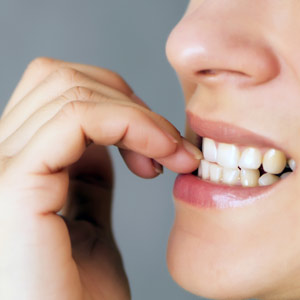 Periodontal (gum) disease is the most likely cause of a loose, permanent tooth. This progressive infection causes damage to the gums and bone tissues that hold teeth in place, leading to looseness and ultimately tooth loss.
Gum disease, however, isn't the only cause: although not as common, excessive biting forces over time may also lead to loose teeth. The excessive force stretches the periodontal ligaments that hold teeth in place, causing the teeth to become loose.
This condition is called occlusal trauma. In its primary form, the patient habitually grinds or clenches their teeth, or bites or chews on hard objects like pencils or nails. Generating 20-30 times the normal biting force, these habits can cause considerable damage. It can also be a factor when gum disease is present — supporting bone becomes so weakened by the disease, even normal biting forces can cause mobility.
If you recognize the early signs of grinding or clenching, particularly jaw soreness in the morning (since many instances of teeth grinding occur while we sleep), it's important to seek treatment before teeth become loose. The symptoms are usually treated directly with muscle relaxants, an occlusal guard worn to soften the force when teeth bite down, or stress management, a major trigger for teeth grinding. The sooner you address the habit, the more likely you'll avoid its consequences.
If, however, you're already noticing a loose tooth, treatment must then focus on preserving the tooth. Initially, the tooth may need to be splinted, physically joined to adjacent teeth to hold it in place while damaged tissues heal. In some cases, minute amounts of enamel may need to be removed from the tooth's biting surfaces to help the tooth better absorb biting forces. Other treatments, including orthodontics and gum disease treatment, may also be included in your treatment plan.
If you notice a loose tooth, it's critical you contact us as soon as possible for an evaluation — if you delay you increase the chances of eventually losing it. The earlier you address it, the better your chances of preserving your tooth.
If you would like more information on loose teeth, please contact us or schedule an appointment for a consultation. You can also learn more about this topic by reading the Dear Doctor magazine article "Loose Teeth."